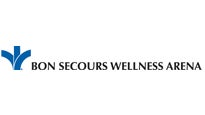 Bon Secours Wellness Arena
Browse Events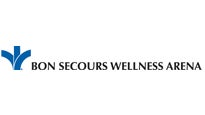 Bon Secours Wellness Arena
650 North Academy Street
Click the map for directions
Monday – Friday 10:00AM - 5:00PM. On Day of Show: Open til intermission. Weekend hours vary by event.
Parking
$5.00-$10.00 2800 Surrounding spaces. Accessible Parking: 20 on site and 20 additional in parking garage.
Will Call
All windows, Monday-Friday; 10:00am-5:00pm. On Day-of-Show: Open till intermission of show. WEEKEND HOURS VARY BY EVENT. PLEASE BRING A PICTURE ID, THE ACTUAL CREDIT CARD USED TO PURCHASE THE TICKETS, AND YOUR ORDER NUMBER.
**WEBSITE-
www.bilocenter.com
**CONCESSIONS- Hot Dogs, Hamburgers, Subs, Chicken Fingers, French Fries, Nachos, Sushi, Pizza, Popcorn, Sodas, Beer, Wine Coolers, etc. 3 ATMS Available inside building **SEATING Mostly Reserved, Some GA Floor: Sections Floor 1-7 Lower: Sections 100-121 Upper: Sections 200-233 Capacity:16,000