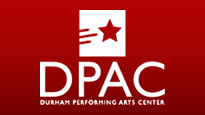 DPAC - Durham Performing Arts Center
Browse Events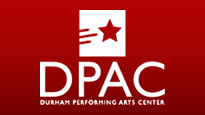 DPAC - Durham Performing Arts Center
123 Vivian St
Click the map for directions
Monday-Friday: 10am-5pm Saturdays: 10am-2pm Show Days (including Sunday show days): Open starting 3 hours before show time. **Note : DPAC has a transactional kiosk available outside the box office that is available 24 hours a day for ticket sales.
Parking
Convenient parking is easy in three sparkling new decks with almost 3,000 spaces within minutes walking distance of the theater. VIP parking available for purchase beginning 30 days prior to show time by contacting the box office. Handicap parking in our VIP lot can be purchased at a discount when available. Handicap parking in the East Deck and on the service road to the side of DPAC has been greatly reduced due to the construction of the new Aloft Hotel. In addition, the pedestrian route from the East deck to DPAC is now significantly longer. DPAC strongly recommends parking in the North Deck and using our Courtesy Shuttle if you or your guests are uncomfortable walking distances greater than 2/10 of a mile (about 2 to 3 city blocks).
Will Call
Location - DPAC Box Office and/or Courtesy Table Hours - Open 3 hours prior to each performance
The Durham Performing Arts Center (DPAC) is adjacent to the famous Durham Bulls Athletic Park in the award-winning American Tobacco District. American Tobacco is the one of the largest mixed use projects in North Carolina history and is creating a destination like no other in the region. Home to over one million square feet of offices, retail, entertainment venues, residences and a variety of upscale and festive restaurants, this new urban district is reshaping the way people live, work, and play. Combining a stunning mix historic renovation and new developments, American Tobacco is not only a shining jewel for Downtown Durham but for the entire region and we're proud to be part of this vibrant new area. With over 1 million visitors expected per year it's easy to say it's all happening in the American Tobacco District. With sparkling new parking decks and a variety of restaurants, the festive streetscape will soon tempt DPAC guests to dine and stroll through the lively public spaces on their way to an evening of live entertainment. At DPAC Come early and enjoy drinks, appetizers, and gourmet snacks in the BlueCross Blue Shield Atrium, our dramatic three story glass walled lobby. For most shows our lobby bars will feature soft drinks, mixed drinks, wine by the glass, and a full selection of domestic, specialty and import beer. Appetizers and gourmet snack menus include a wide variety, even fresh baked cookies. And for family shows we break out the popcorn and popular candy selections for kids and kids at heart. Area Dining Options Durham's distinctive dining is arguably the most sophisticated in the state, thanks to a thriving colony of nationally acclaimed chefs who call Durham home. Overall, there are more than 300 Durham restaurants to please the palate. Within specific walking distance of DPAC are a wide variety of upscale and festive options. Many area restaurants are expected to offer pre-show dining discounts and after show specials. Explore Durham's many options with A Places to Eat Search courtesy of the Durham Convention and Visitors Bureau.